STUDENT PROJECT • FALL 2018 - PRESENT
qualitative design research • design synthesis • data modeling techniques • ideation • prototyping • pilot
PARTNERS: LAURA SEPULVEDA & VICKY PRIDGEN
FOCUS: IMPOSTORISM
We wanted to understand how impostorism (also known as impostor syndrome) impacts women's post-secondary education trajectory, from background to employment and beyond.
GOALS
Build empathy with our target audience, so that we can better understand what it's like to be a female post-traditional student.

Discover the internal and external factors that have influenced a woman's education and career trajectory.

Understand how impostorism may manifest in a woman in regards to education and career.
10 Contextual Inquiry interviews • 9 subject matter expert interviews • 8 user tests • 31 hours of audio data
We made the decision to interview our participants without ever mentioning impostorism. We wanted to observe their behaviors and find out what led to certain decisions or feelings during specific times in their lives. For this reason, we asked participants to fill out a timeline of their lives after high school. We asked them to identify times they felt good and the reasons why, as well as low points and what led to them.
Based on our research, all humans experience impostorism at times but it has more long-term negative effects on women, specifically. One study showed that from a young age, boys were taught that their failures were effort-based ("You just didn't try hard enough, you'll do better next time!") and women were taught that their failures were ability-based ("Maybe you're just not good at math!").
After interviewing the participants, we immediately began Affinity-Diagramming the data and finding common themes, from which we developed our insights. Affinity diagramming helped us immerse ourselves in the data and see common patterns and themes we wouldn't have done otherwise.
After developing these insights, we created Temporal and Semantic Zooms to help us understand the problem space better. We used Reframing to consider new perspectives. We generated 200 concepts for alleviating impostorism and then used a 2x2 model for Creative Downselection, ranking the ideas from most fun to least fun and most impact to least impact. For our top concepts (most fun, most impact) we created Storyboards as well as Theory of Change and Lean Canvas worksheets. We used these to visualize our goals in real-world scenarios and help us measure costs and impact.
We further narrowed down the concepts and began think-aloud user testing on these three:
Destruction Box: Self-care, self-reflection, and stress relief, all tied up in one monthly box. Instead of nurturing, pampering, or creation, subscribers are encouraged to express anger, rage, and destruction by symbolically destroying feelings of impostorism.
Consultancy: A human-centered design firm providing company leadership with actionable solutions and recommendations to help hire, retain, and promote top talent while moving toward a more balanced and inclusive workplace.
Failure-Reframing Events: A safe space to share your stories of failure and impostorism in your life. Curating dinner parties and storytelling events for women-identifying people to come together and celebrate stories of failure.
After user testing all three of our ideas, we found the most traction with the third idea, the events. We started an organization, ATX Fail Club, whose goal was to reframe failure as a part of success. Why? Because failure is hard to admit, let alone share with others. And this is especially hard on women, who tend to internalize their failures more than men do.
We started with "Failure Dinners." At these dinners, we create an intimate dining experience for a small group of 10-15 women-identifying humans and over dinner, we share experiences of failure. As hosts, we start with our own stories because we both want to lead by example and to create a space where attendees felt comfortable sharing stories of failure.
We hosted our prototype Failure Dinner in February. We had 3 attendees, 6 including ourselves. We established rules (no interrupting, no sharing other people's stories after we leave, etc.) Everyone shared stories of failure and gave us feedback on the experience.
We hosted our first real Failure Dinner that was open to the public in April. We promoted it on social media and charged attendees $25 to cover our costs. We also had a sponsor for this event; our cause resonated with a local chocolatier and they provided dessert for the dinner. After dinner we incorporated an element from our destruction box idea: we wrote our feelings of impostorism on packets of flame colorant and burned them in a fire.
After the success of this event, we branched out into other formats. A local business wanted to host an event for us and along with their programming, we did an activity where we asked attendees to write down a list of what intimidates them and why. This act of self-reflection helps people face their fears and move past them.
Our cause resonated with another local business, a school that teaches aerial silks and trapeze skills. One of our insights is that growth happens outside of the comfort zone so we co-hosted a special donation-based class (proceeds went to a local nonprofit called the Girls Empowerment Network). While we didn't specifically share stories of failure, this was more of an event where (fun, safe!) failure was built into the experience. And most attendees were surprised and delighted that they actually had more trapeze skills than they thought they had.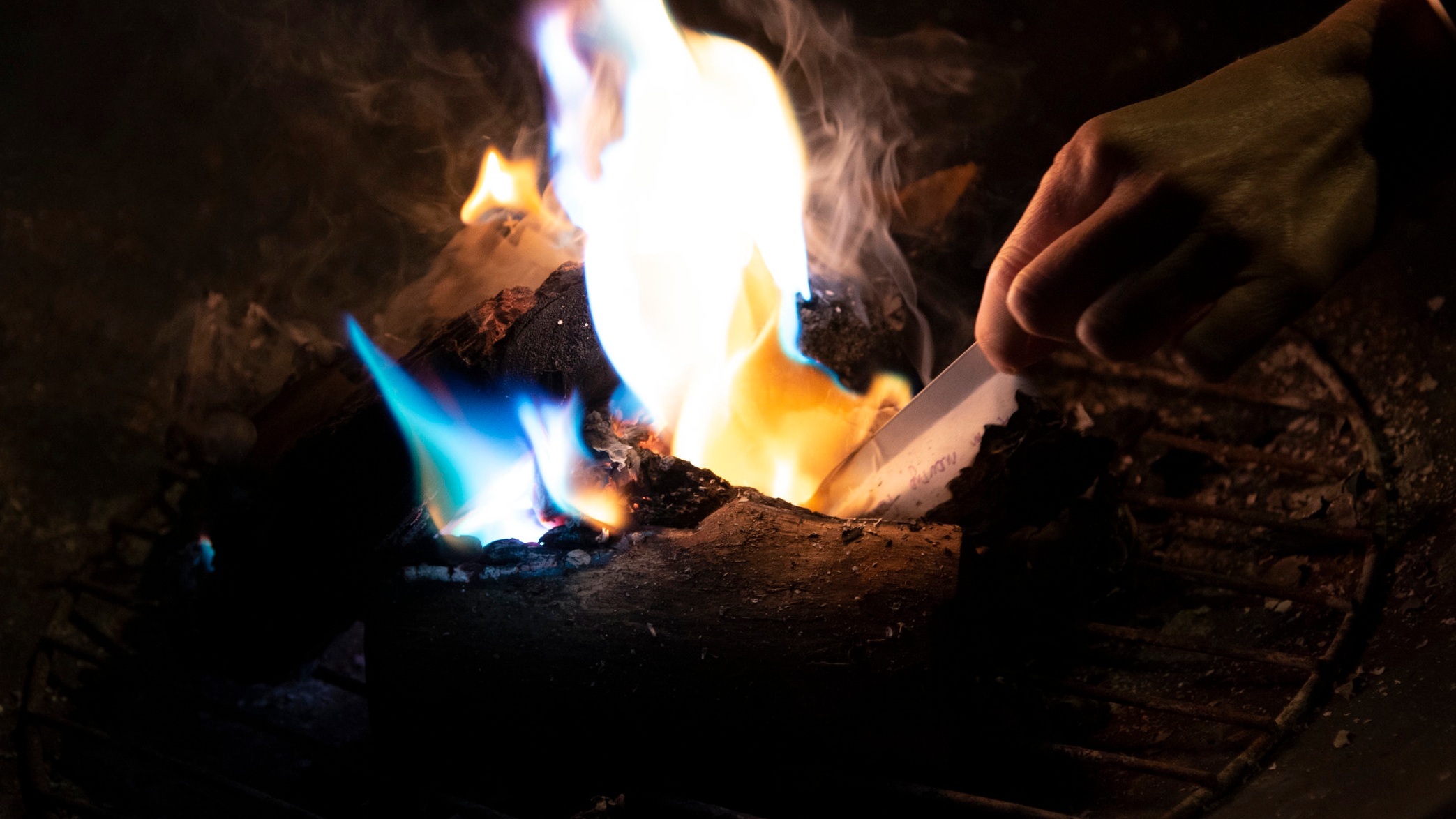 We identified several metrics for success with these events. First, we wanted to know if our idea had traction with the community. We measured this in three ways:
Ticket sales. After our initial prototype dinner, both of our next two events sold out. One woman drove in from Houston (a 2.5-hour drive) just to attend our dinner.
Would people outside of our friend network be interested? Yes. A woman we had never met saw our event on Facebook and went on Instagram to promote it as something "not to miss this weekend in Austin." She even brought three friends with her to the dinner.
Would local businesses want to be sponsors? Yes. So far, three local businesses have signed up to either provide food for our dinners or to host events for our organization at their location.
Second, are we succeeding at creating the sort of "magic moments" that allow for vulnerability? Absolutely. At one Failure Dinner, one woman we'd never met didn't say a word during the dinner. When we moved outside, she placed her packet into the fire and tearfully shared the negative aspects of her life that she wanted to change. And she wasn't the only one to shed tears around the fire. There was something truly cathartic about symbolically burning feelings that they wanted to leave behind. Some of the things they've told us about the experience are:
"[Sharing stories at the Failure Dinner] made me realize a lot of us are holding on to things that are really outside of our control."
"Since sharing two stories at fail club dinner, I've felt that my failures can be things other than internalized self-doubt or externalized baggage. Failure can be funny. Failure can be a bonding moment. Failure can be cathartic. Failure can be simply feeling stuck."
"[Before the dinner] I felt sad and unsettled about my failures. After sharing, I honestly felt better. I realized catharsis is a very real and powerful thing!"
Are people recommending us to friends? Yes. After the prototype dinner, several people brought friends with them to events or came because they heard about it from other friends.
Would they attend more Failure Dinners or events? We asked this question on a survey and 100% of attendees who responded said yes.
Lastly, what's our impact on our attendees' actual behavior after attending one of our events? In our survey we wanted to know if, after attending one of our events, they felt empowered to try something new or share a failure story with a friend or change their lives in some positive way. And that answer was yes in over 80% of our total responses. Two women in particular told us about the efforts they had made in their lives:
"I talked about a relationship failure, and I went on a first date after. That first date was a fail too, but I tried."
"Yes, I'm getting up 1 hour earlier in the morning to get ahead of my goals/day."
We are looking for a societal change where women don't compare themselves with others as a way of measuring their own success. And where they don't internalize their failures and use them as an excuse to not persist. Even if it's in a small way, like telling a failure story to a friend or going on a first date, we believe those are the first steps to eradicating the effects of impostorism in their lives. So we will continue to grow our offerings and try and reach more women to help them succeed by reframing their failures.